Europe Summer
Looking for the best destinations for summer in Europe that aren't Italy? I am obsessed with Europe (so obsessed that I moved here from America) and all things Europe summer and I promise you there is more to summer in Europe than the Amalfi Coast. Don't get me wrong, the Amalfi Coast is a very special place but in the summer it gets way overcrowded with tourists and has extremely inflated prices. Europe, with its rich history, diverse cultures, and breathtaking landscapes, offers an array of other enchanting destinations to explore. There is something so magical about spending the summer in Europe and I want to let you in on the best European summer destinations you might not have considered. Whether you're a seasoned traveler or a first-time visitor, keep reading to learn all you need to know about the best places to visit in Europe this summer.
Factors to Consider When Choosing Summer Destinations in Europe
Before I share each destination, let's talk about how to choose the best one for you. When planning your summer in Europe, there are several factors to consider. Firstly, it's essential to think about the climate. Different regions of Europe experience varying temperatures and weather patterns during the summer months. Some destinations, like the Mediterranean, offer sun-drenched beaches and warm waters, while others in Northern Europe provide cooler temperatures and lush green landscapes.
Another crucial factor to consider is the type of experience you're seeking. Are you interested in exploring historical sites, indulging in culinary delights, or immersing yourself in nature? Europe offers a diverse range of experiences, from the bustling streets of Paris to the tranquil fjords of Norway. Consider your interests and passions when choosing your summer destination.
Lastly, it's important to take into account your budget and travel restrictions. Some European countries may be more affordable than others, while certain destinations may require specific entry requirements or travel visas. Research the cost of accommodation, transportation, and attractions to ensure your trip aligns with your budget.
1. The Netherlands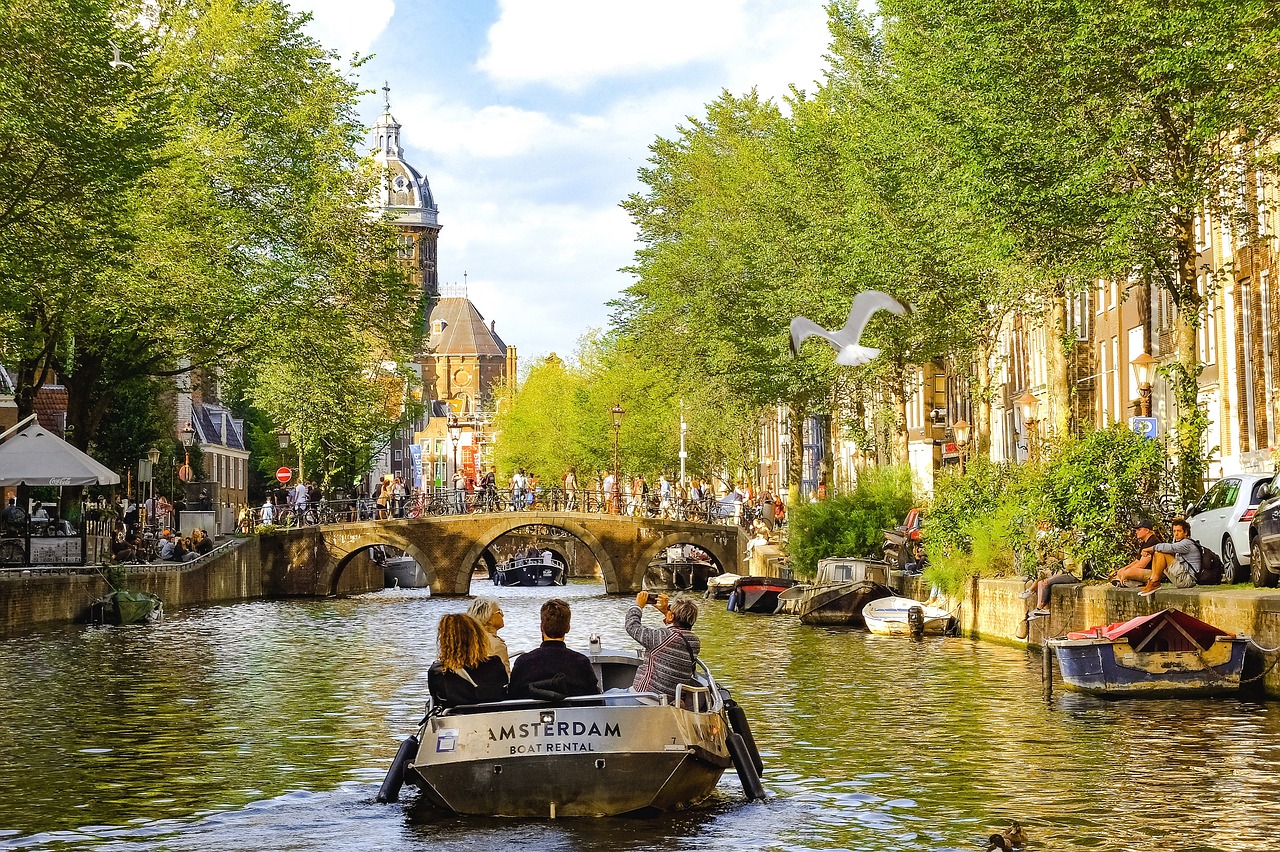 I recently moved to Amsterdam from Chicago and I have completely fallen in love with this city and this country, so this one is near and dear to my heart. Everywhere I walk in this city is so picturesque and just feels like the epitome of Europe. Everyone is so friendly and welcoming here as well, with the huge bonus of speaking English. Since the weather isn't the greatest year round, it is a perfect summer destination in Europe. The Netherlands gets over 17 hours of sunlight each day (the sun sets at 10:30pm!!) and the temperature is super moderate (high 60's-70's degrees Fahrenheit).
I would suggest starting your journey here in the capital city of Amsterdam, known for its artistic heritage and vibrant nightlife. Schiphol Airport is very easy to fly in and out of and is about 20 minutes from the city center. Amsterdam is filled with a diversity of attractions and activities, it's truly a destination for everyone.
If you are interested in history you can visit the Anne Frank House (book your tickets far in advanced!) or the Rijksmuseum to learn about Dutch history.
For art lovers, explore the world-renowned Van Gogh Museum or see Banksy's work at the Moco Museum.
If you're like me and love walking around to explore a city, there's plenty of adorable areas all within walking distance of each other.
I'd also suggest taking a scenic boat cruise along the canals, it's a great way to see the city and learn a bit of history while eating unlimited Dutch cheese and drinking bottomless wine.
For a more unique experience, venture outside of Amsterdam and discover the natural beauty of Keukenhof. This world-famous flower garden showcases over seven million flowers, including a dazzling array of tulips. Lose yourself in the vibrant colors and intoxicating fragrances as you explore this floral paradise.
If you want to continue on through the Netherlands, check out the charming city of Utrecht. With its medieval architecture and picturesque canals, Utrecht offers a more relaxed and authentic Dutch experience.
Climb the Dom Tower for panoramic views of the city.
Wander through the historic city center.
Enjoy a leisurely bike ride along the canals.
For more details about what to do in Amsterdam, such as the important activity of dining, check out my Instagram and TikTok. My Google Map also has plenty of good spots to check out.
2. Belgium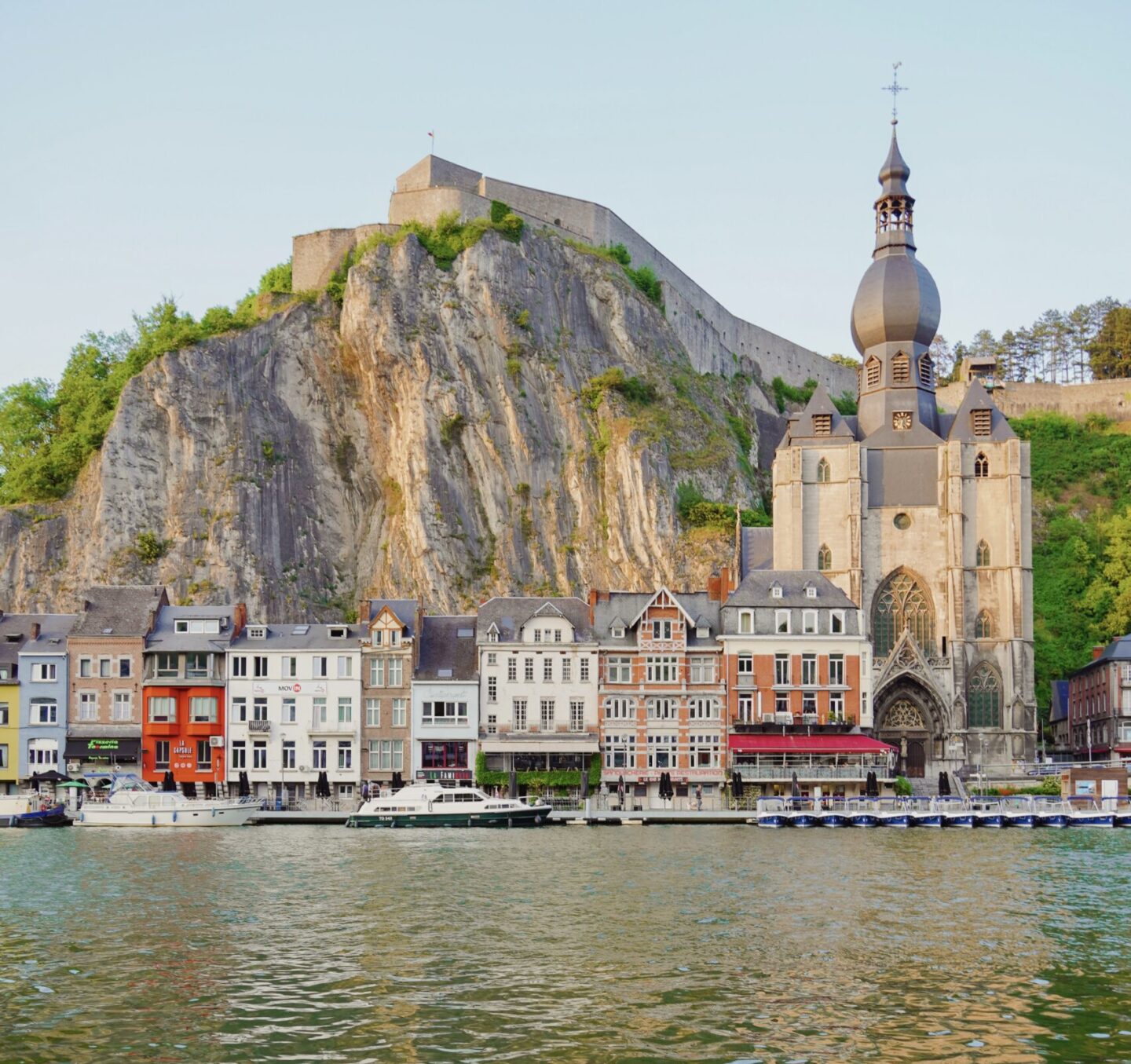 Belgium, a small country with a big heart, is a true hidden gem awaiting your discovery. While your transportation accommodations to Belgium might start you off in Brussels, I suggest wasting no time there. I'm sure to some it may hold its own appeal but I recommend bypassing the bustling capital and venturing into the unspoiled beauty of Dinant. With intricate rock formations, breathtaking river views, and a rich historical tapestry — Dinant is a haven for those seeking a true hidden gem and an authentic Belgian experience.
Wander the quaint streets, admiring the picturesque architecture that seems plucked straight from a fairytale.
Don't miss the Collegiate Church of Notre-Dame, perched high on the cliffs, offering panoramic vistas.
Immerse yourself in the melodious sounds of Adolphe Sax's birthplace, as Dinant is renowned for its musical heritage.
If you're looking for a move lively city that is far more appealing that Brussels, Ghent offers a unique blend of medieval allure and contemporary vibrancy.
Lose yourself in the romantic ambiance as you explore the majestic Saint Bavo's Cathedral, a true architectural masterpiece.
Step back in time as you wander through the halls of the awe-inspiring Gravensteen Castle, relishing in its storied past.
Take a leisurely stroll or boat cruise along the picturesque Leie River, immersing yourself in the vibrant atmosphere that Ghent exudes.
Saving the best for last, you can't miss the undeniable charm of Bruges, a city often hailed as the "Venice of the North." Immerse yourself in a fairy tale as you navigate the labyrinthine canals and admire the awe-inspiring medieval architecture.
Take a leisurely boat tour or a guided city tour to explore.
Visit the iconic Belfry tower for panoramic views that will leave you breathless.
Indulge your taste buds in a myriad of flavors, from exquisite Belgian beer to delectable handmade chocolates. Waffles are a must!!
3. Austria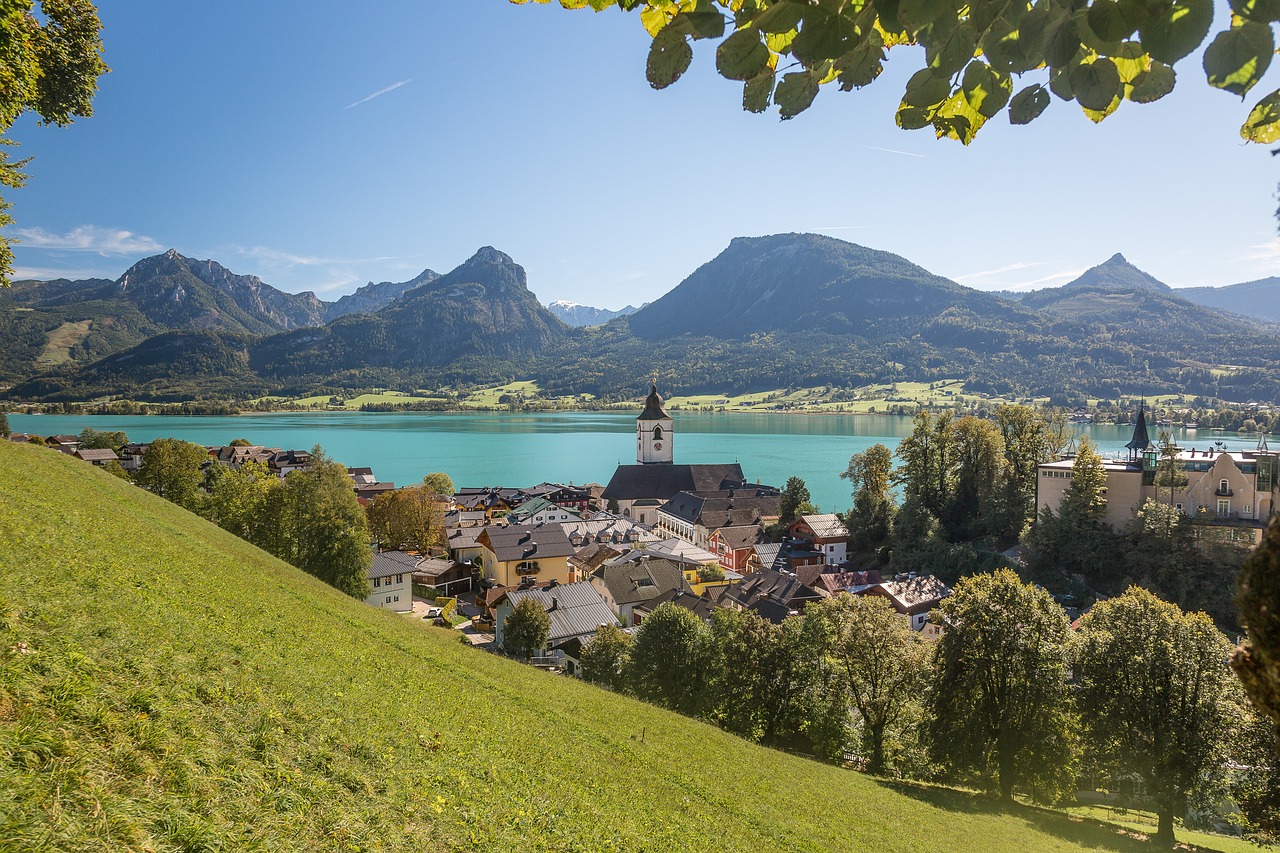 Austria, a captivating country nestled amidst the majestic Alps, is an absolute haven for summer adventurers seeking both natural wonders and cultural experiences. Every corner holds a new adventure in this enchanting country.
Spend time in the heart of Austria, the vibrant capital city of Vienna. Prepare to be serenaded by the melodies of classical music as you explore its historic streets.
Skip the lines at the iconic Schönbrunn Palace, where tales of royalty and lavishness come to life.
Attend a Mozart concert at the prestigious Vienna State Opera, where the symphonies will transport you to a realm of timeless elegance.
To truly embrace the Viennese culture, treat yourself to a leisurely experience at one of the city's traditional coffee houses, savoring the aroma of freshly brewed coffee and indulging in mouthwatering pastries.
For nature enthusiasts, the breathtaking region of Salzkammergut is a must-visit. Prepare to be captivated by its postcard-perfect landscapes, adorned with crystal-clear lakes and majestic snow-capped mountains.
Explore the idyllic village of Hallstatt, a UNESCO World Heritage site known for its charm and tranquility.
Take a memorable boat ride on Lake Wolfgang, surrounded by stunning alpine vistas that will leave you in awe.
For the adventurous souls, embarking on a hike through the ethereal Dachstein Ice Caves promises an otherworldly experience, revealing nature's hidden wonders within.
Another must-visit destination in Austria is the enchanting city of Salzburg. Known as the birthplace of Mozart, Salzburg offers a unique blend of history, culture, and natural beauty.
4. Denmark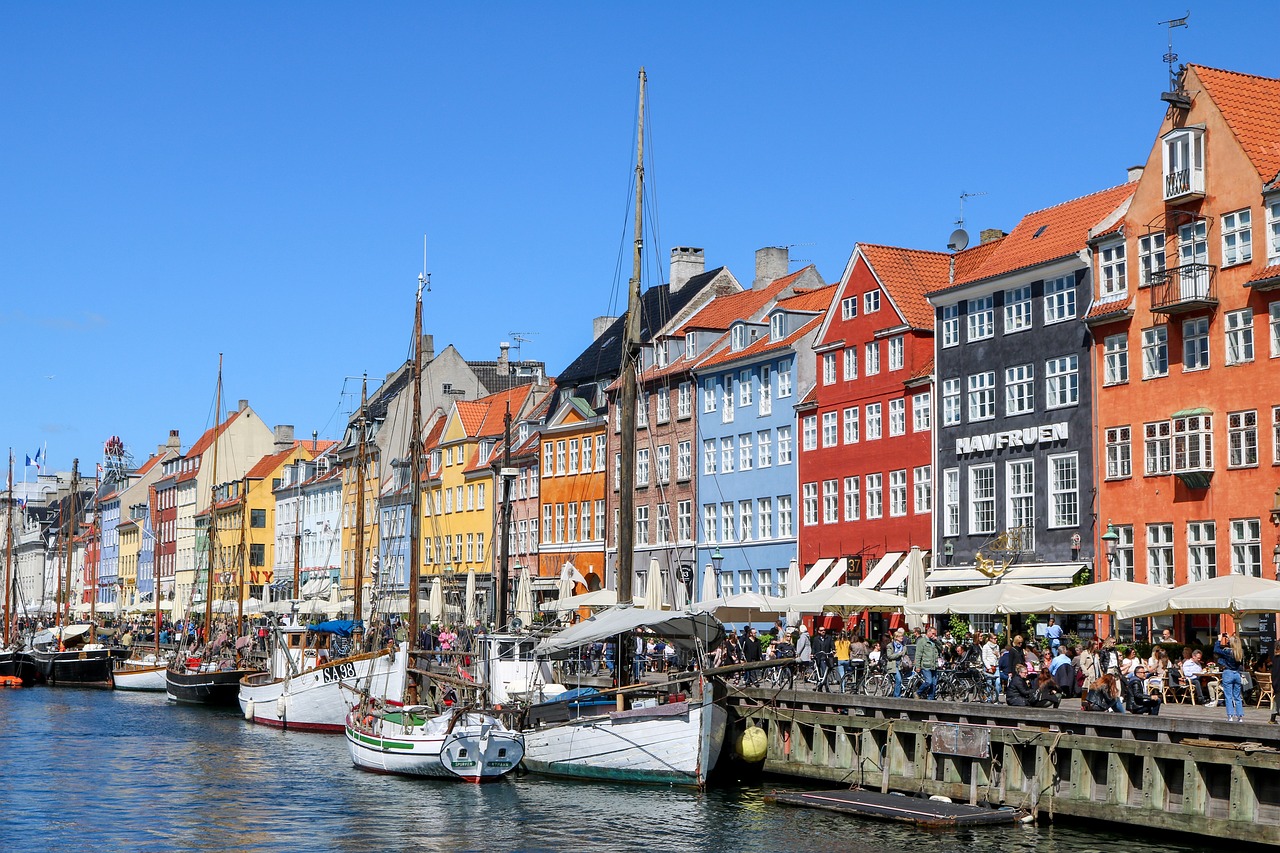 Denmark, a country that exudes coastal charm, idyllic countryside landscapes, and a fascinating Viking heritage, is an absolute must-visit summer destination. This is another sunlight filled destination in the summer, so if you're looking for that boost of serotonin, embark on a Danish adventure filled with delightful experiences and unforgettable sights.
As always, you can't miss the vibrant capital city of Copenhagen, where every street corner holds a story to tell.
Explore the iconic Nyhavn harbor, with its colorful facades and lively atmosphere, and snap a photo with the beloved Little Mermaid statue, an emblem of Danish folklore.
To truly immerse yourself in the local lifestyle, rent a bike and pedal your way through the city's enchanting streets, feeling the cool breeze on your face.
Visit the world-renowned Tivoli Gardens amusement park, where you can enjoy thrilling rides, vibrant entertainment, and mouthwatering treats.
Speaking of treats, be sure to indulge in some authentic Danish pastries, like flaky cinnamon rolls or custard-filled Danish kringle, for a true taste of Danish culinary delights.
For a dose of Danish countryside charm, venture to the historic town of Roskilde.
Discover the awe-inspiring Roskilde Cathedral, a UNESCO World Heritage site that boasts stunning architecture and holds centuries of history within its walls.
Take a leisurely stroll along the picturesque harbor, soaking in the tranquility and admiring the boats swaying gently in the breeze.
When hunger strikes, treat yourself to a traditional Danish lunch at one of the cozy waterfront restaurants, where you can savor fresh seafood and local specialties while enjoying the scenic views.
To experience the epitome of Danish island charm, make your way to the enchanting island of Ærø, nestled within the South Funen Archipelago. Here, you'll discover a world straight out of a storybook, with quaint villages, rolling green hills, and pristine sandy beaches.
Rent a bike and pedal along the winding roads, exploring the island's hidden gems at your own pace.
Make a stop in the picturesque town of Ærøskøbing, where half-timbered houses and cobblestone streets create a captivating ambiance.
Take a moment to relax on one of the island's inviting beaches, basking in the warm sun and feeling the soft sand between your toes.
Denmark, with its coastal allure, charming countryside, and Viking heritage, promises a summer adventure like no other. From the colorful streets of Copenhagen to the historic treasures of Roskilde and the island enchantment of Ærø, each moment spent in this captivating country will leave you with memories to cherish.
5. Hungary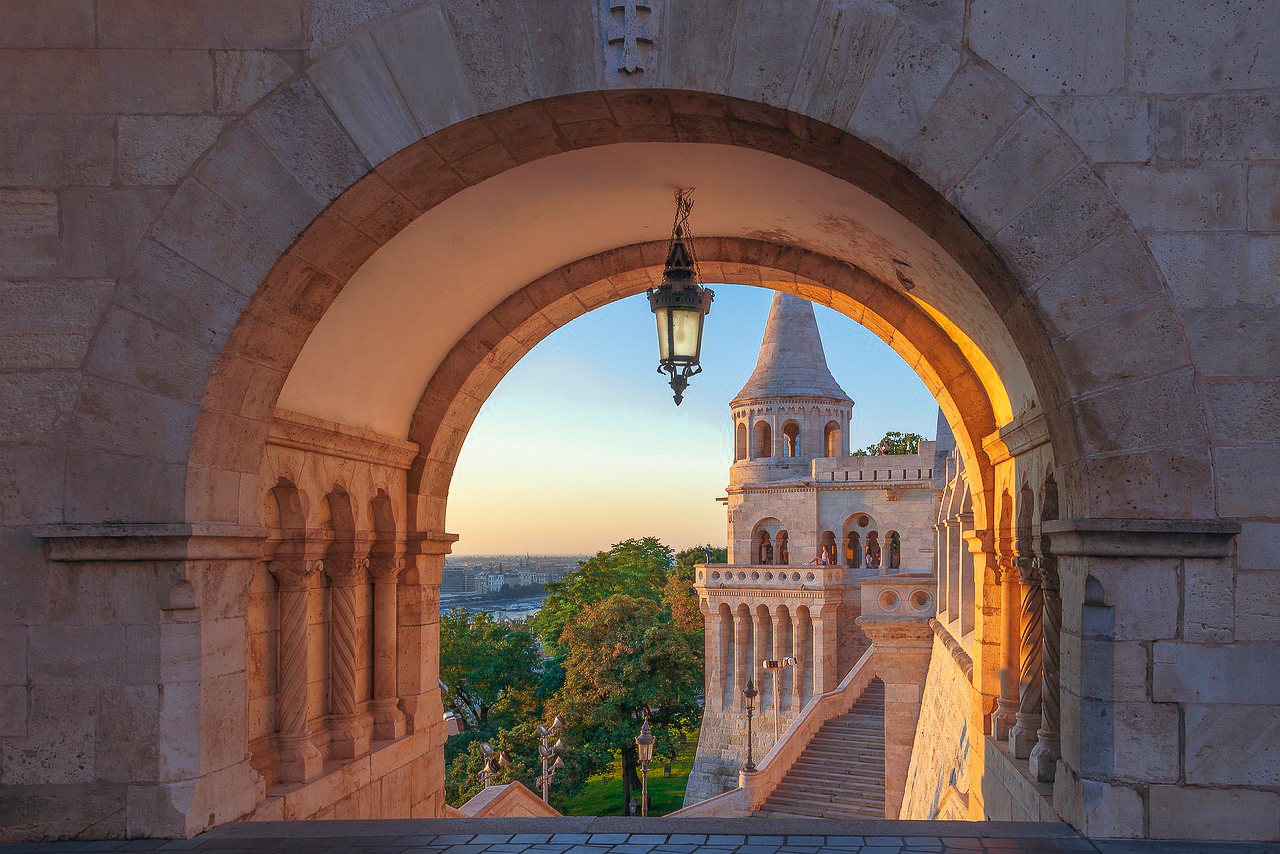 Hungary, a captivating destination that seamlessly blends architectural marvels, rejuvenating thermal baths, and a vibrant cultural scene, beckons you for an unforgettable summer getaway. Dive into a world where history intertwines with modernity, all while embracing the casual and inviting atmosphere that Hungary exudes.
The Hungarian city to visit would be the lively capital city of Budapest, a true gem nestled along the Danube River. Prepare to be enchanted by the grandeur of the Hungarian Parliament Building, an iconic landmark that dominates the city's skyline.
To fully unwind, immerse yourself in one of Budapest's famous Széchenyi thermal baths, where you can soak in healing mineral waters while basking in a tranquil ambiance.
For a touch of romance, embark on a scenic sunset cruise along the Danube River, where you'll witness the city's landmarks bathed in golden hues, creating a truly magical experience.
To discover Hungary's natural splendor, make your way to the enchanting shores of Lake Balaton, a paradise for sunseekers and nature enthusiasts. With its expansive sandy beaches and sparkling clear waters, Lake Balaton offers the perfect setting for relaxation and outdoor activities. Dive into the refreshing waters, set sail on a leisurely boat ride, or simply lounge on the beach, soaking up the sun while admiring the breathtaking views of vineyards and rolling hills that frame the lake.
No trip to Hungary would be complete without immersing yourself in the charm of Eger, a captivating town known for its rich history and soothing thermal baths.
Explore the impressive Eger Castle, where centuries of stories come to life within its walls.
Marvel at the famous Turkish Minaret, a remnant of Eger's Ottoman past, and climb to the top for panoramic views of the town below.
Indulge your taste buds with delectable Hungarian cuisine, from hearty goulash to mouthwatering chimney cakes, paired perfectly with local wines that Eger is renowned for.
If you're feeling luxurious like I normally am, take a full day private tour of the city to experience all the best including my personal favorite, a wine tasting.
Hungary, with its awe-inspiring architecture, invigorating thermal baths, and vibrant cultural scene, promises a summer adventure that will leave you in awe.
Planning Your European Summer Itinerary
Now that you have discovered the best places to visit in Europe this summer, it's time to plan your itinerary. When creating your European summer adventure, consider the length of stay in each destination. Some cities, like Amsterdam or Vienna, may require more time to fully explore, while others, like Utrecht or Eger, can be enjoyed in a day or two.
When it comes to accommodations, Europe offers a wide range of options to suit every traveler's budget and preferences. From luxury hotels to budget-friendly hostels and cozy bed and breakfasts, there is something for everyone. Research the best accommodations in each destination and book in advance to secure the best deals.
As for top attractions, each country has its own unique landmarks and must-see sites. Make sure to visit the major cities mentioned in this guide, such as Amsterdam, Bruges, Vienna, Copenhagen, and Budapest. These cities offer a perfect blend of history, culture, and natural beauty.
When it comes to dining options, Europe is a food lover's paradise. From traditional Dutch frites in Amsterdam to Belgian waffles in Bruges, Austrian Wiener Schnitzel in Vienna to Danish smørrebrød in Copenhagen, and Hungarian goulash in Budapest, there is a wide range of culinary delights to indulge in. Don't forget to try the local specialties and explore the vibrant food markets in each destination.
Tips for Traveling in Europe During the Summer
Traveling in Europe during the summer can be a truly magical experience, but it's important to be prepared. Here are some tips to make the most of your European summer adventure:
Pack light: I hate carrying around lots of luggage while I'm on the move, so I always try to pack the wardrobe staples that can make for multiple outfits. Europe can be hot during the summer months but in some of these destinations it could rain unexpectedly. My biggest suggestion though would be to pack comfortable walking shoes!! Everyone wears sneakers here, even with fashionable outfits.
Stay hydrated: Water is so hard to come by in Europe. Carry a water bottle with you and always ask for tap water at restaurants.
Avoid the crowds: Popular tourist destinations can get crowded during the summer, so try to visit major attractions early in the morning or later in the evening to avoid the crowds and get the best photos.
Use public transportation: Although it can be intimidating, especially in a foreign language, Europe has an excellent public transportation network, including trains, buses, and trams. Utilize these options to navigate between cities and explore the surrounding areas. It can save so much time and money!
Embrace the local culture: Europe is a continent rich in history and culture. Take the time to learn about the local customs, traditions, and etiquette. Respect the locals and their way of life.
Be flexible: While it's important to have a plan, be open to unexpected opportunities and detours. Some of the best experiences in Europe can happen when you least expect them.
I hope my suggestions for some of the best places to visit in Europe this summer were helpful! My goal is always to inspire you to explore the world and create memories that will last a lifetime. There really is no place like a summer in Europe.
Disclaimer: This blog post contains affiliate links. By clicking on these links and making a purchase, I may earn a commission at no additional cost to you. Please note that I only recommend products or services that I have personally used and genuinely believe will add value to my readers. Your support through these affiliate links helps me continue to provide valuable content on this blog. Thank you for your support!