Description
THE ULTIMATE TRAVEL GUIDE: PARIS
A 41 page downloadable PDF eBook guide, meticulously curated to provide everything you need for planning an epic trip to this iconic city.
Inside This Comprehensive Guide:
Accommodation Recommendations: Discover a range of comfortable and stylish accommodations that cater to varying preferences and budgets.
Explorations: Get lost in the quaint neighborhoods, each brimming with its own unique charm, history, and culture.
Photography Haven: Uncover the most picturesque spots for capturing the timeless beauty of Paris, from the majestic Eiffel Tower to the charming cobblestone streets of Montmartre.
Iconic Landmarks and Monuments: Navigate through the city's monumental heritage with ease, visiting renowned landmarks that echo tales of a rich historical past.
Shopping: Explore the chic boutiques, vintage markets, and fashionable districts that make Paris a global fashion capital.
Culinary Delights: Indulge in a gastronomic journey through Paris's legendary cafes, bistros, and fine dining establishments, each offering a unique taste of French cuisine.
Nightlife: Discover where to have a glass of wine after dinner and the best speakeasies hidden within the city.
Tips: Tips on traveling to Europe, transportation and communication, packing list, apps to use & more.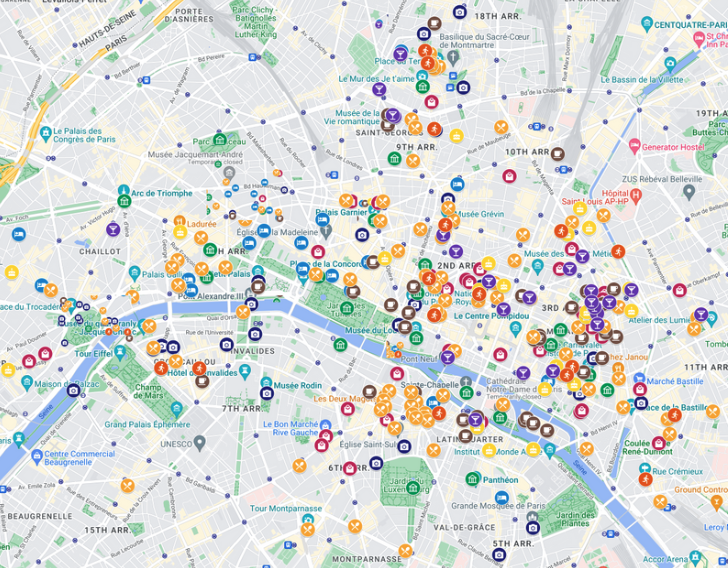 EXCLUSIVE FEATURE
Downloadable Google Map: An exclusively curated Google Map with over 330+ saved locations to aid in seamlessly mapping out your Parisian adventure. Download this map directly to your phone, ensuring a hassle-free exploration of the city's wonders, whether you're wandering through historic avenues or seeking the trendiest eateries.
The goal of this guide is to equip you with all the knowledge you need to plan your version of an unforgettable trip to Paris. No matter what your version of that may be, this guide can help.
CURATED 4-DAY PARIS ITINERARIES
The Bucketlister: Your ultimate 4-day Paris itinerary for the traveler who wants to see it all. This action-packed itinerary is sure to hit Paris' most iconic landmarks, museums, and quintessential tourist spots. From the Eiffel Tower to the Louvre, this itinerary maximizes your time in Paris.
The Instagram Girlie: Your go-to 4-day Paris itinerary for all my social media girlies. This itinerary is your ultimate roadmap to all things trendy, photogenic, and irresistibly girlie in Paris. From the most Instagrammable cafés to the picture-perfect landmarks, I've curated a list that will fill your feed with envy-inducing photos.
The Local: The 4-day Paris itinerary that takes you off the beaten path and into the heart of authentic Parisian life. This itinerary is your passport to the lesser-known gems of the city, where you'll mingle with locals and discover the true essence of Paris.
The Romantic Getaway: A 4-day Paris itinerary crafted for couples seeking an intimate and romantic escape in the world's most romantic city. This itinerary is a love letter to Paris, offering a slower pace that allows you to savor each moment with your significant other.
The Wanderluxe: A curated 4-day Paris itinerary designed to give you the ultimate Parisian experience. This itinerary is a harmonious blend of the classic and the contemporary, the iconic and the undiscovered. It's a journey through the heart of Paris, where you'll explore world-renowned landmarks while also stumbling upon hidden gems that only a seasoned traveler would know.